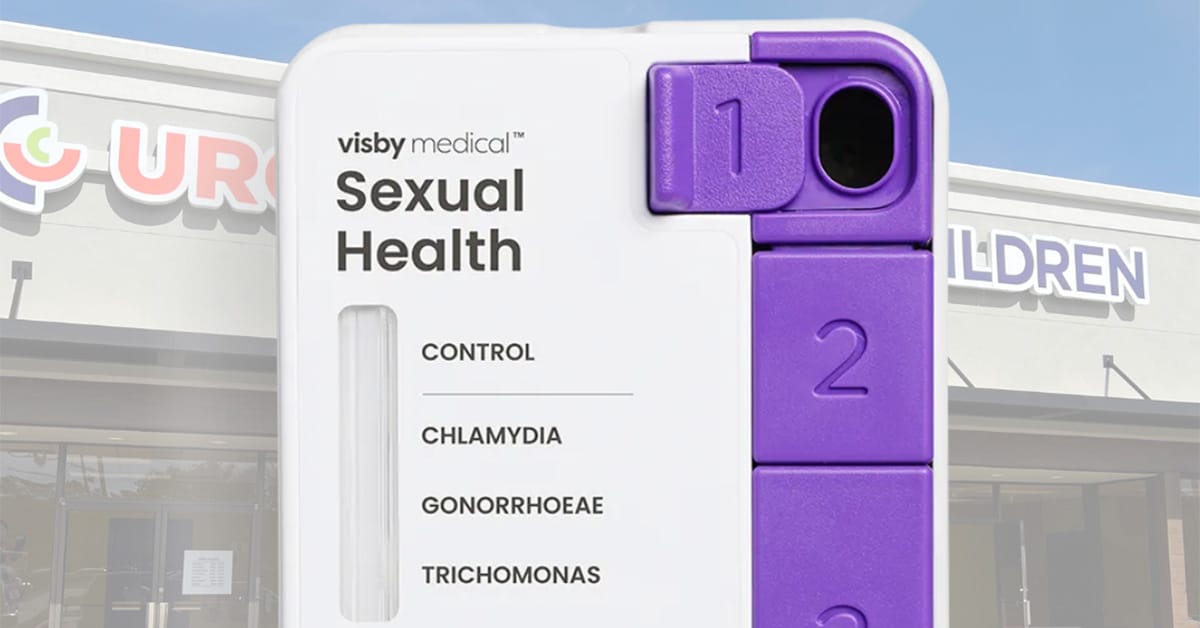 First-of-Its-Kind Sexual Health Screening Available at Select UC4C Clinics
Urgent Care for Children (UC4C) proudly offers FDA-approved Visby STI screenings to female patients ages 14 and older at our Highway 280, Vestavia Hills, Trussville, Tuscaloosa, Madison, Huntsville, Mobile, Daphne, Memphis, Chattanooga, Knoxville and New Orleans clinics. This new STI testing device tests for Chlamydia, Gonorrhoeae, and Trichomonas. According to the Centers for Disease Control and Prevention, sexually transmitted diseases have consistently been on the rise over the past six years. With UC4C's implementation of Visby's compact device, one simple swab will test for all three sexually transmitted infections. Female patients will self swab in the privacy of a restroom, and the device will deliver the results in 28 minutes. The UC4C medical staff will give the patient their results and treat them all during a single visit.
The idea behind UC4C offering the Visby STI screening is to deliver rapid and accurate results in minutes, not days, to our patients. Traditional send-off testing relies on calling a patient back days later and calling in treatment or having a patient return for a shot. Waiting increases anxiety levels in the patient. The convenience of this test also addresses many privacy concerns by avoiding the need for patient call back. All of these issues are avoided and taken care of during a single visit at UC4C.
"Innovative, rapid, easy-to-use, single-use, point-of-care device…"
–The Lancet
Frequently Asked Visby STI Testing Questions
It is important to note that some STDs don't cause symptoms, or they can cause symptoms that go away. Therefore, unless you have a test, you may not know that you have an STD. Coming in for a screening, with or without symptoms, can provide you with vital information for your health and safety. Common symptoms of STDs consist of:
– A burning sensation when urinating
– A change in vaginal discharge
– Vaginal bleeding between periods
Most of the time, patients with STDs don't have any symptoms. So, the only way to know for sure if you have an STD is to get tested. If you are or have been sexually active, it is always a good idea to get screened. Not only is the screening quick and painless, but it can also put your mind at ease in a matter of minutes.
Yes, your safety and privacy are of the highest importance to the Urgent Care for Children Team. Our providers follow HIPAA guidelines to ensure your confidentiality as a patient. The Visby Medical Sexual Health Test(™) is safe and easy to use. Yet, it is important to note our clinicians are available to answer any questions you may have.
During your visit, if you would like to be screened for an STD please let your provider know. You will then be given self-swab instructions by your UC4C provider. Once the instructions have been given, you will enter the restroom to collect your test sample. After performing the self-swab collection in the restroom, you will return to the exam room with your swab inside the collection tube. The sample will be placed in a testing device, and the results will be delivered in approximately 28 minutes. Your provider will give you your test results and treat you as needed all in one visit. We are focused on making the entire experience as comfortable and convenient as possible.
Visby reports test accuracy of 97% or greater. The company initially tested a total of 1,881 females aged fourteen and above, in medical centers across the country. These strong results present an attractive opportunity for UC4C to continue our mission to provide quality care throughout the continuum of care for our patients.
In the state of Alabama, minors aged 12 and over can legally request STI testing and treatment without an adult present. However, Visby's Medical Sexual Health Test (TM) is available to females aged 14 and above.
The test is administered by a minimally invasive self-swab. You should not experience any pain when performing your test collection.
Visby's STI testing is covered under most insurance plans. However, all UC4C clinics offer an affordable self-pay rate of $125 for all services, which would cover this service should a patient not have insurance.
At this time, Visby's STI test is limited to our Highway 280, Vestavia Hills, Trussville, Tuscaloosa, Madison, Huntsville, Mobile Memphis, Knoxville and New Orleans clinics. There is no need to schedule an appointment, as we accept walk-ins until 20 minutes before closing. Though, you may find it more convenient to fill out paperwork ahead of your visit to UC4C by clicking the "Save Your Spot" hyperlink provided for each participating location.