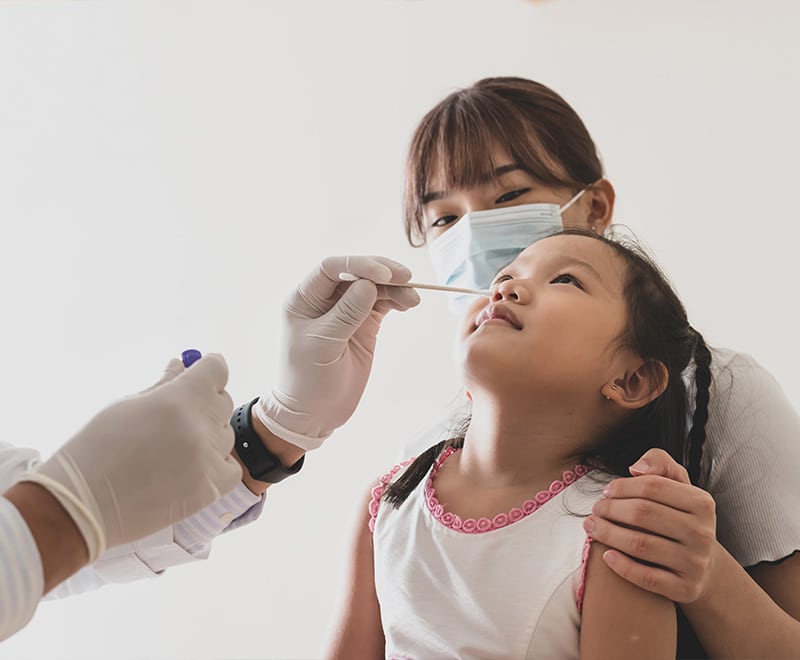 Testing Process
The easiest way to get COVID testing at Urgent Care for Children is by saving your spot online and clicking the button above. This will allow you to schedule a convenient time for your visit and complete the necessary paperwork ahead of time.
COVID-19 Testing For Asymptomatic Patients Without Exposure
Urgent Care for Children offers PCR and/or rapid-antigen COVID-19 testing to asymptomatic patients of all ages who have not been exposed to the coronavirus. We are happy to provide services for those in need of proof of a negative test for travel, camp admission, school or other similar scenarios for a flat rate of $95. Both rapid-antigen COVID-19 testing with PCR is performed for $120.
Getting Your Test Results
Rapid tests will receive test results the same day you are tested. PCR tests are sent to a third-party lab and results are typically reported within two days, but can vary with volumes. PCR test results will be posted to your patient portal as soon as they are available.
If you have any questions, please call your nearest Urgent Care for Children location.
No, we do not require a referral for coronavirus testing.
UC4C proudly accepts most insurances, including Medicaid.
Rapid COVID-19 test results return in the same day the patient is swabbed. PCR test results typically return in two to three days.
Upon arrival, please come inside and check-in with our front desk staff.
Our Team administers all COVID-19 tests. Patients do not swab themselves.
COVID-19 presents itself with mild to moderate symptoms of fever, cough and shortness of breath. These symptoms may appear within two to fourteen days after exposure.*
Three of the best ways to protect your child from contracting COVID-19 are by vaccinating your child against COVID-19 if they are eligible and by following the basics of hand-washing, avoiding large crowds, and always wearing masks when with anyone who does not live in your home.
*If you or your child are experiencing chest pains or difficulty breathing, please call 911 or visit the nearest emergency room.