Children's Physicals
Before your student-athlete joins their team on the field or your campers head off to summer camp, let our team take care of their sports and camp physicals. At Urgent Care for Children, they are convenient, fast, and affordable.
Sports
& Camp
Physical
s
Your child may be required to have a sports physical to be completed prior to participation on a sports or school team or a camp physical prior to attending that camp. The purpose of the exam is to determine whether it is safe for a child to participate in sports and/or camp activities. Most states require that kids and teens have a physical exam before they start a new sport or attend camp for the first time. We recommend that children have their exam done six to eight weeks before the competitive season or camp dates. That leaves time for proper results and evaluation.
There are two main parts to a sports or camp physical—the medical history and the physical exam.
Medical History
This portion of the exam includes questions about a child's personal and family history of illness and medical conditions. It is important to have this background and determine if any previous health problems would prevent a child from participating in sports or attending camp. You can expect to discuss things like:
Family h

istory of illness

, sudden death or unknown cause of death

Childhood illnesses
Allergies
Past injuries,

hospitalizations,

or

surgeries

Current medications
Physical Exam
The second part of the physical includes the actual physical exam. You can expect things like the following to be reviewed:
H

eight and weight

B

lood pressure and pulse rate

V

ision

(please bring any glasses or contacts currently used)

H

eart, lungs, abdomen

E

ars, nose, and throat

P

osture, joints, strength, and flexibility

In some cases, as required, a

urinalysis will be performed
What you can expect at your child's visit
The physical will be performed by one of our pediatric experts. After the paperwork is approved and signed you will be given a completed copy (in some cases this will occur the day of the exam, but there may be times when the paperwork will be sent to you after the exam.) Each exam costs $35. Please bring the paperwork provided to you by the sports team, school, or camp.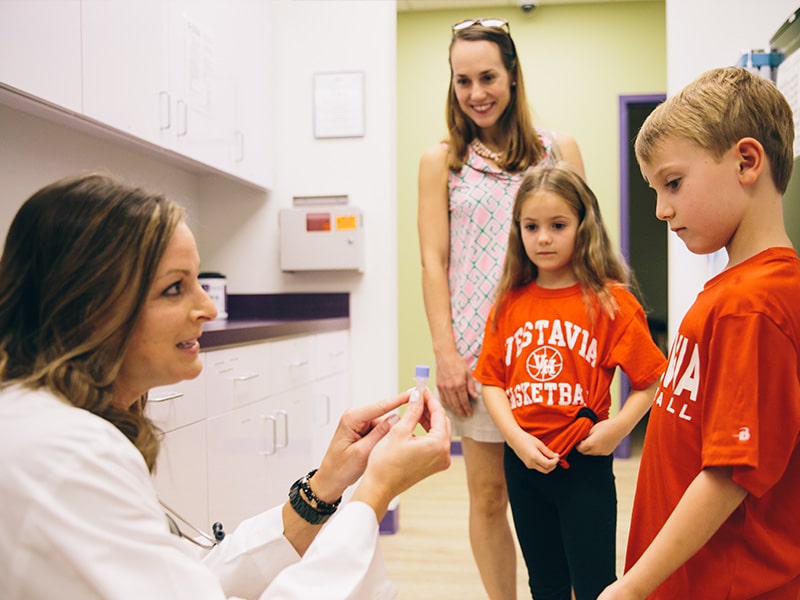 For Medical Emergencies Call 911
In the event of a medical emergency, Urgent Care for Children recommends calling 911 or visiting your local emergency room. We are not able to treat acute traumas, medical emergencies or life-threatening illnesses.