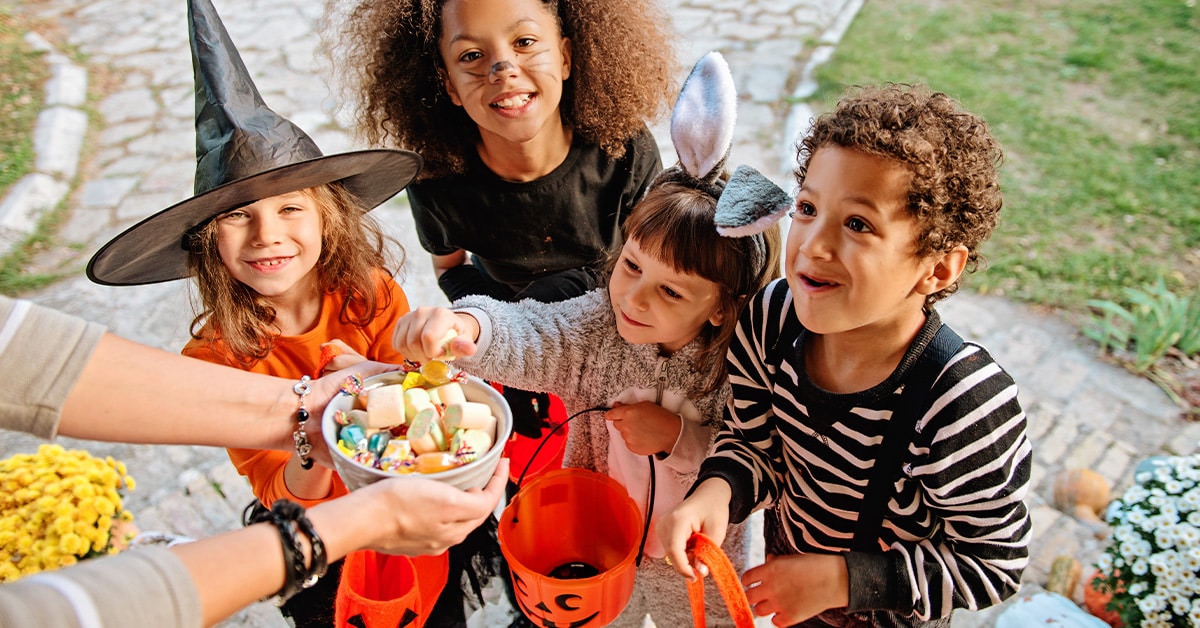 Tips for a Healthier Halloween and What Parents Should Remember About Food Allergies
By, Misty Barrett, Pediatric Nurse Practitioner, Vice President of Clinical Affairs, Urgent Care for Children
Halloween is always a fun time in our house. The costumes, parades, and fall festivities make for a great family time. As a mom, I enjoy seeing my children get wrapped up in the spirit of fall and Halloween, but also cringe at all of the candy! So much candy!
Like me, most parents worry about the excessive sugar consumption that comes with Halloween. It's certainly easy to get hooked on sugar – the more our children have, the more their tastebuds want. We try to incorporate some food-free fun into the day, but if candy is unavoidable in your house like it usually is in mine this time of year, here are some tips parents can take to help minimize overconsumption of sweets:
Feed your child a healthy dinner before trick or treating to avoid them filling up on candy. Don't forget to avoid sugary drinks and juices at dinner. Have children drink water to keep them full and hydrated.
Consider a food-free Halloween. Instead of candy, offer children glow sticks, spooky play jewelry, pencils, bouncy balls, bookmarks, stickers, and stencils. Not every party or neighborhood gathering needs to be centered around food or sweets. Halloween crafts that kids can make and take home are also a big hit among the younger crowd.
Try some healthy, ghoulish snacks. There are hundreds of websites and Pinterest boards dedicated to spooky, but healthy snacks. Fruits and vegetables can be disguised with some creative Halloween-themed decorations (think ghost bananas with chocolate chips for eyes and jack-o-lantern apples).
Walk. While it may be inevitable that children will be eating sugary sweets on Halloween, make trick or treating a family affair – walk from door to door instead of driving to incorporate a bit of exercise. Chances are, your kids will run, not walk, to see what's next!
Choose a small trick-or-treat bag. Try a small bucket or bag for trick-or-treating to minimize the excess candy your child brings home.
Donate extra treats. There are several benevolent organizations where your child can donate candy to service men and women overseas such as Treats for Troops and Operation Gratitude. Consider it a lesson in giving back.
Check your children's candy before they eat it. Make sure children aren't eating anything expired or that may contain allergens. For young children, avoid hard candies that pose a choking hazard.
Food Allergies and Halloween – What Parents Need to Remember
It's easy to get wrapped up in Halloween festivities, but when it comes to children with food allergies, being alert and staying on top of what your child is eating is critical. Many candies and chocolates have hidden contents or share manufacturing facilities with foods that contain well-known allergens such as nuts, soy, wheat, and dairy. Be cautious.
Know the ingredients in each piece of candy your child is ingesting. If an ingredient list isn't visible, it's best to avoid that particular food item.
Teach children to politely turn down home-baked items like brownies and cookies because of the risk of unknown allergens.
Accompany children with food allergies when trick-or-treating to monitor any rogue pieces of sweets that find their way into a child's mouth. For children with severe allergies, it may be wise for parents or guardians to carry an epi-pen for emergencies.
Perhaps most important – know the signs of an anaphylactic or allergic reaction, which include:

Shortness of breath
Swelling of the lips or tongue
Difficulty swallowing/throat closing up, which can make it difficult for the child to breath
Hoarseness
Dizziness
If your child does experience any type of allergic reaction, remember that pediatric urgent care centers like Urgent Care for Children are open in the evenings, 365 days a year – including Halloween. For severe reactions, call 9-1-1 or go to your nearest emergency department.
Halloween is a special and fun day for children (and even adults) of all ages. With a little careful planning, everyone can have a good time and stay safe. Enjoy the family fun!