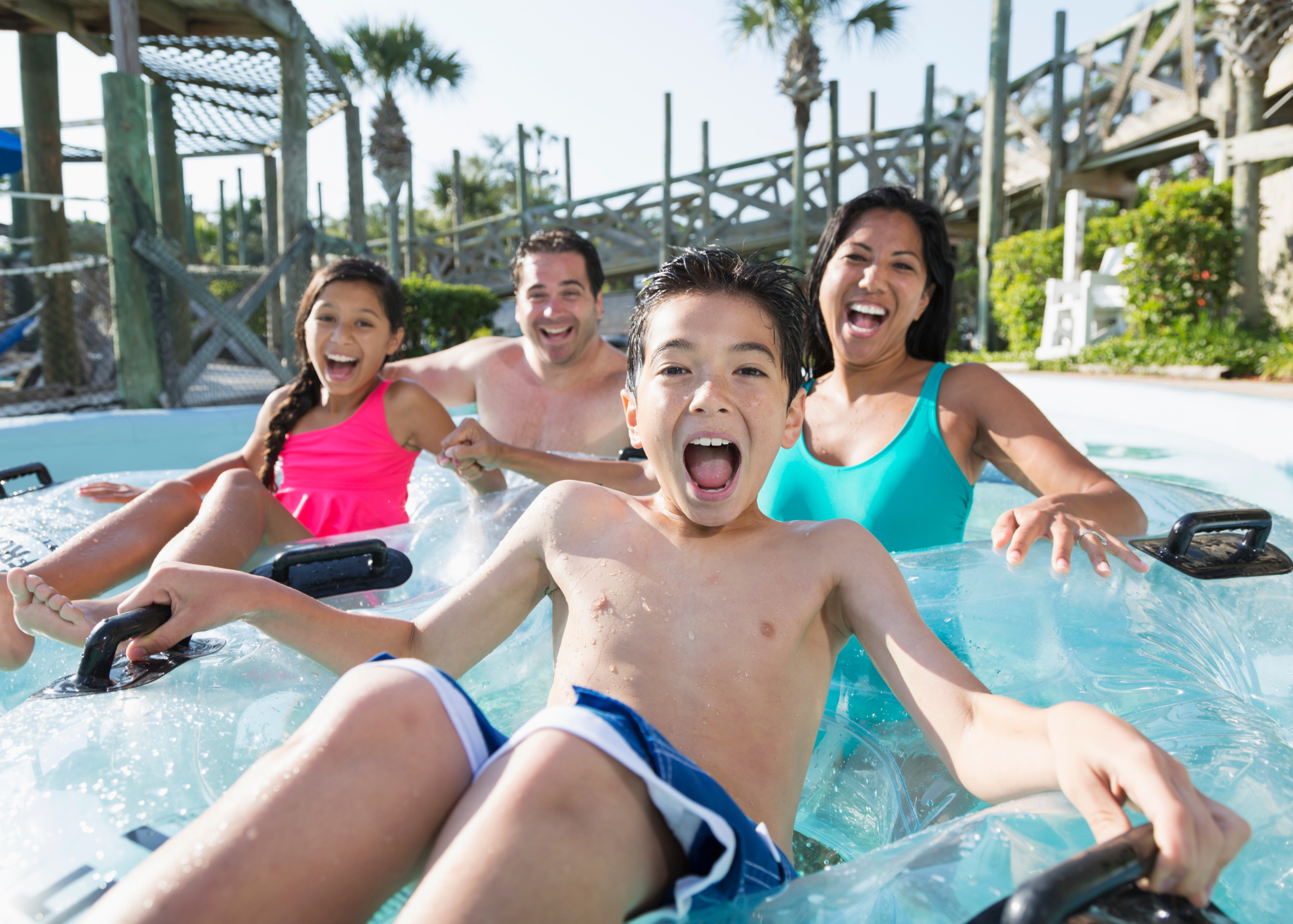 By: Denise Turner, Nurse Practitioner
We are full swing into summer and by now maybe your children are getting a little bored or your family is feeling like they need a break from the day to day. What better place to spend a hot summer day with your family than the water park. Most parks offer a variety of water slides for all ages, lazy rivers, wave pools and splash zones. There is something for everyone but being prepared and communicating a plan to your family prior to heading out can save you a great deal of stress and potential hazards.
SKILLED SWIMMERS?

Just because a child does well swimming in your local pool does not necessarily mean they are ready to brave certain parts of the water park. Coming down a water slide and get dumped into the pool at the end or riding waves are a different thing all together. Don't assume kids are safe in the water just because they know how to swim — lots of bodies, heat, fatigue, and strong currents can create a risky situation for unaccompanied kids.
HEAT AND HYDRATION

Even at the water park, children can be impacted by intense heat and humidity. Remind kids that if they're feeling tired or overheated, they need to take a break in a shady or air-conditioned spot throughout the day. Make sure you know what signs to look for in regard to heat stroke. Learn more here.
Bring water bottles and snacks that are high in water content like watermelon. It's easy for kids to get excited and forget to drink or eat throughout the day. Set times throughout the day to check in and ensure everyone is well hydrated. And take the opportunity to reapply sunscreen as well!
A
M
EET UP
While older children may be fine wandering off and enjoying the park with friends, younger children will need more oversight. Therefore, your family may enjoy different parts of the park throughout your day there. It's so important to ensure that all of your children, regardless of age, know what to do if they can't find you or another adult in your family. Create a "family check in" location as soon as you enter the park. It can be near the concessions, bathrooms or at a designated chair near the pool. Just make sure it is easy to find (or get help finding) and that your children know to go there immediately and wait for you.
SAFETY FIRST

Heading to the water park is exciting and can create a day filled with fun and memory making moments. But it's important to remind your children of some basic safety rules to ensure everyone has a fun and safe day.
Walk, don't run

—

Anytime you are around water it's good to wear water shoes which provide traction and can keep feet safe from injuries and exposure to infections. The ground can get slick quickly, so a

void flip-flops

if at all possible.

Ride height requirements

—

When a ride or slide has a "You Must Be This Tall

to

Ride", p

ay attention

! Each ride has a unique design, often based on a minimum height or weight. Failure to follow those guidelines could lead to serious injury.

L

ifeguards

—

Although there are lifeguards stationed throughout any water park, don't assume they are watching your child. Things can get chaotic and no matter how good they are, they can see everything all of the time.

F

irst

Aid

— Know where the first aid stations and AEDs are in the

park

.

Or consider bringing your own for minor issues. Learn how to build the perfect first aid kit

here

.
HAVE A PLAN

When you are ready to plan your family fun day at the water park, here are a few additional things to keep in mind:
Take frequent breaks from the sun and heat so everyone can regroup physically and

emotionally.

Don't forget the s

unscreen

. Use SPF 30 or higher and consider using a waterproof version for your water park day. And make sure to reapply every 2 hours. You could also consider sunglasses, hats with a wide brims or rash guards for a little extra protection.

W

ash

ing

hands

is always important but with the chemicals used to sanitize public water activities you will want to ensure your children are washing up before eating. And or course

after using the bathroom

.

Shower once you are done for the day or if you plan to be out of the water for an extended period of time. Those harsh chemicals keeping the water clean can wreak havoc on your child's skin.
Water parks create a wonderful opportunity for families with children of all ages to come together and enjoy some fun in the sun. With a little prep, a clear plan, and some basic tools you can be off on your next adventure.