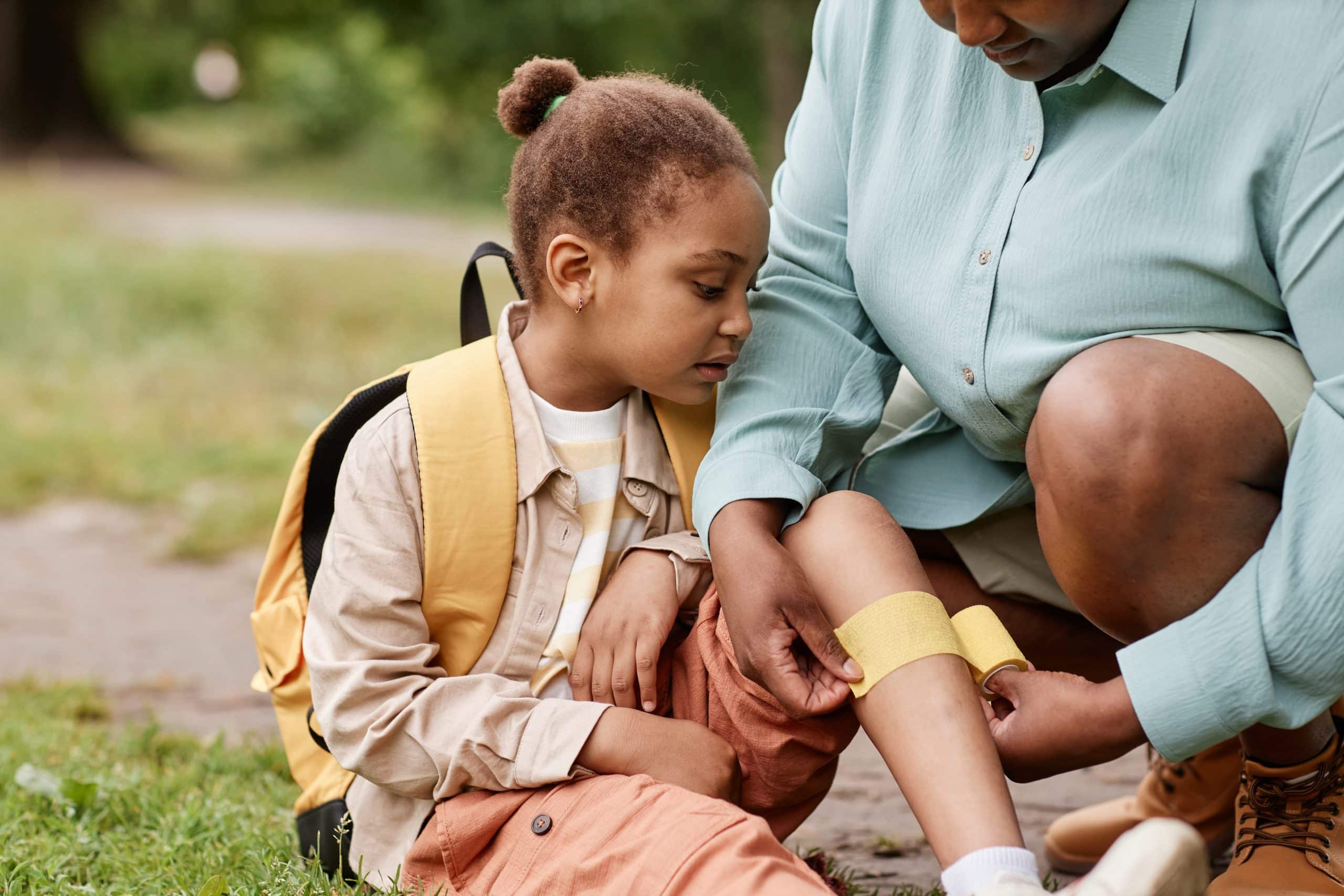 Your Ultimate Guide to Summer Safety
by: Erin Percy, Nurse Practitioner
The temperatures are rising and although that marks the beginning of slow summer days, here at Urgent Care for Children things are anything but slow. During the extremely hot summer months, when children have more outside play, pool days or sports, we see a rise in injury visits. Our fully trained pediatric provider team is here when injury or illness happens, but we are also committed to ensuring parents have the best tools when it comes to caring for their children and general first-aid.
Building a first aid kit at home

This time of year, it is important to have a first aid kit for home and on-the-go. We suggest having plenty of adhesive bandages, non-stick gauze, clean tweezers, hydrocortisone cream for itching and something to wash out wounds like saline or hydrogen peroxide. Keeping medications like non-drowsy antihistamines such as Zyrtec/cetirizine and pain relievers like ibuprofen safely stored are also a good idea. Our providers like to keep cold packs that you squeeze and shake on hand for injuries as well as ace bandage wraps. Two other important tools for this time of year are sweatproof and waterproof SPF 30+ and bug spray, especially the kind that prevents tick bites if you will be in tall grass or woods. Read here for more on building your First-Aid Kit.
Playing It Safe This Summer

Heat & Sunburns. It is so important that children get outside and play every day. When it is very hot out, we recommend playtimes earlier and later in the day to avoid sunburns, heat exhaustion and dehydration. Have lots of water handy for your children don't forget that sunscreen!
Pool Safety. Swim lessons are crucial for safety if you will spend any time near the water. Drownings remain a leading cause of accidental death and we caution all of our parents to secure their pools and keep children close. Do not rely on "floaties" or older children to keep them safe.
Safeguarding Your Home & Yard. Walk around your property and check for large ant hills, wasp nests, poison ivy or standing water. We all know kids can get into anything and prevention really is key. Check your swing set and make sure the wood, metal and joints all look secure. Winters can be rough on playsets and that can lead to injuries. Trampolines are another place many children can get hurt. If you have one, please follow the manufacturer's instructions which say only one jumper at a time.
Fireworks. Fireworks are a summer staple but lead to many ER and urgent care visits. Children should never play with or set off fireworks. Have water nearby and when not in use all fireworks, lighters and matches need to be kept securely away.
What
To Do When
Children
Get Hurt

Cuts, Lacerations & Stitches. If your child cuts their skin the most important thing to do is thoroughly wash it with soap and water. This does not hurt and is the best way to clean any wound. Kids are usually scared but just reassure them that cleaning it as soon as possible is the best way to avoid germs. If water is not around Wound Wash or hydrogen peroxide will work in a pinch. If the cut is deeper and it looks like it needs a few stitches head over to Urgent Care for Children. We have lots of tools to help. We will assess the cut and determine if stitches (sutures), glue, steristrips (very sticky bandage strips that hold tension), or staples are the best method. We work with parents to do what works best, with as little pain as possible. Occasionally, due to the severity of the cut or the location, we have to recommend you go to the ER. Our providers will quickly address this with you to help you save time. For very deep cuts or cuts that are squirting blood, hold tight pressure over the wound and call 911.
Fractures, Sprains & Strains. Orthopedic injuries are also a common occurrence in the summer. Luckily, Urgent Care for Children has x-ray on site. We can assess most injuries and help determine if there is a fracture or sprain. We even have soft casts and splints. If your child injures their wrist or ankle at home we recommend RICE–Rest, Ice, Compression and Elevation. Have them lay down and with ice or a cold pack, wrap in a bandage that gives slight pressure but not pain to the area. Elevate the injury above the level of the heart with couch cushions. If pain or swelling persists, come to Urgent Care for Children. If the injury is severe, meaning there is a bone sticking out or your child is experiencing shock symptoms (passing out, breathing too fast, not responding), call 911 immediately.
Enjoying Your Slow (and safe!) Summer Days

We wish all of our patients a happy, healthy and safe summer. The moms and dads who work here hope to see you out at the many fairs, pools and parks soon.
If an injury or illness strikes, you can save your spot in line or just walk in. We always look forward to caring for your family.