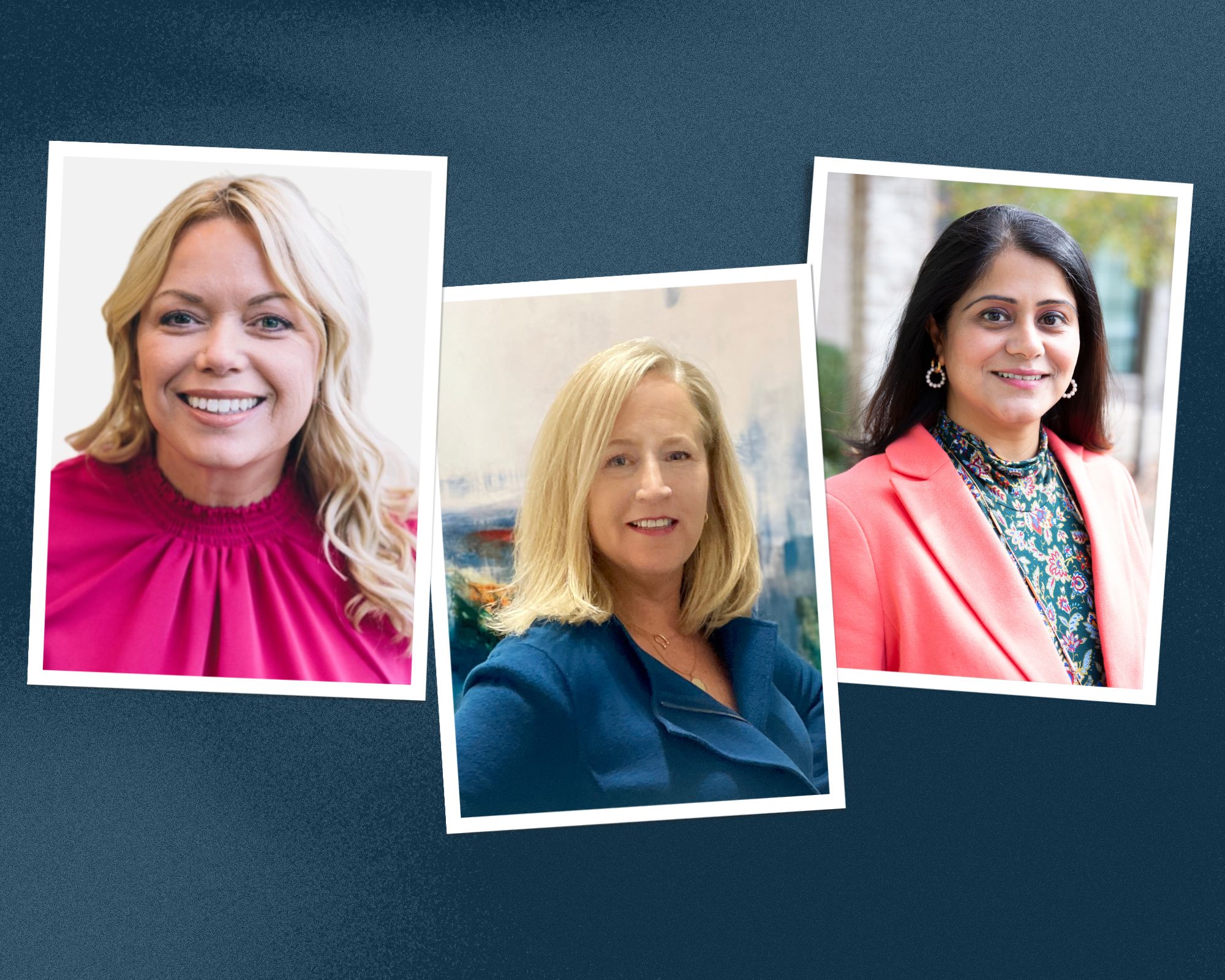 What can we learn from strong women leaders?
During Women's History Month, we had a chance to sit down with three of Urgent Care for Children's senior leaders to capture their advice for those entering the workforce, learn how being a mom has impacted their leadership style, hear what they want their own children to know and so much more!  
Meet Helen Combs, Chief Executive Officer, Dr. Allury Arora-Lal, Founder & Chief Medical Officer and Kirstan Cecil, Chief Marketing & Communications Officer.
Q: As a woman leader, what is one thing you would share with younger women entering the workforce?
Helen: It's important to enter your first job knowing you're getting your feet wet and there's a lot to learn. Take the time to really challenge yourself and grow. Take all of your learnings from this first experience and continue to apply it to future roles. 
Allury: Always trust your instincts.
Kirstan: Work hard. Don't be afraid to ask questions. Be open to opportunities, even if they make you a little uncomfortable—when you stretch yourself you will be amazed at what you can accomplish.
Q: What has been the most fulfilling experience of your career yet?
Helen: Building a clinical research company from the ground up and offering meaningful jobs, and mentoring team members to success in their roles. 
Allury: Being in a position to be able to help others/touch other people's lives.
Kirstan: I love leading teams, finding people's unique qualities, and helping them grow. So, one of my most fulfilling moments was when two of my team members were awarded at our national conference for their innovative work and the impact they made. There is nothing more satisfying than seeing people rise to their full potential!
Q: How does being a strong female leader impact your children?
Helen: Setting an example for my daughter to always do your best work and elevate yourself. As a parent watching my daughter grow with this knowledge behind her has made her strong and fearless with her studies, sports, and friendships.
Allury: They become more inquisitive and open to leading from the front.
Kirstan: My daughter has watched me have great success, but she has also seen me struggle at times. I think it's important for her to understand that success comes from hard work and regardless of what life may throw your way you need to be able to shake off the dust and keep moving forward. It is in those moments that you learn about resilience, perseverance, and grace.
Q: When it comes to being a mom, what are you most proud of?
Helen: I'm proud of my daughter's ability to see the good in everyone and not be afraid to stand up for her beliefs.
Allury: Being a good example by balancing personal, work, and family life.
Kirstan: I am incredibly proud of the confident, independent, funny, and kind young lady my daughter has become. I am in awe of her comfort level in using her voice to challenge what doesn't feel right to her. That is an important quality and one that will bring positive change in this world.
Q: What would you describe a motherly role model as? 
Helen: Unconditional love and support is so important as children move into their teenage years. Your child will make mistakes but taking the time to talk through them and use them as a true learning experience.
Allury: Supportive, kind, being a good example yourself.
Kirstan: I look at my mom as the key role model who helped shape me!  She taught me that I can do anything I put my mind to, to continue to learn new things, family is everything, have fun and always give back. 
Q: What would you tell your children are your 3 keys to success? 
Helen: Showing up on time, listening to others' opinions and ideas with consideration, being reliable.
Allury: Continuous learning, be fearless, self-care.
Kirstan: Hard work/grit, stepping up when needed (even if it's outside of your role), knowing your value.