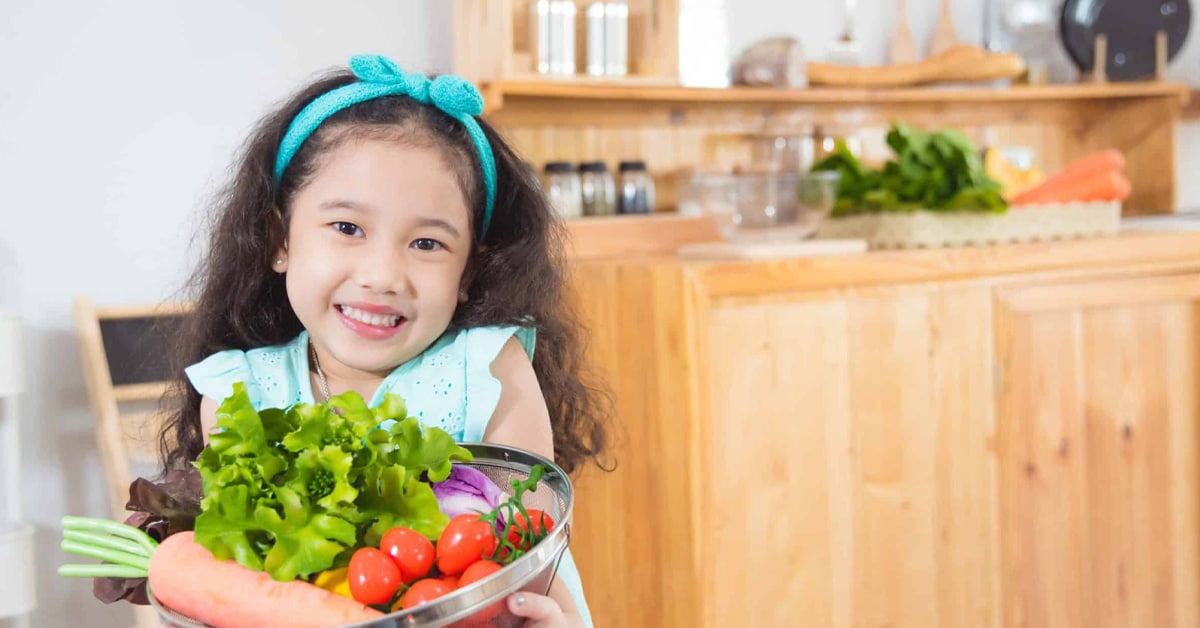 Feeding Your Family Right on a Budget
How to Plan and Shop Smart
Shared from the American Academy of Pediatrics HealthyChildren Magazine, Winter 2022
You can feed your family health meals on a budget, but it helps to have a plan. Here are tips from MyPlate.gov on how to plan and shop on a budget. Try all the tips or start with a few tips. Every effort counts towards feeding your family right!
Plan
Figure out how much money you

have to

spend on food for the week.

Come up with meal and snack ideas that fit your budget. Check to see what foods you already have.
Look in your refrigerator, freezer, and cabinets.
Check grocery sales flyers. See if you can plan a menu based on what is on sale.
Get to know the stores in your neighborhood. You may find deals at ethnic markets, dollar stores, retail supercenters, wholesale clubs, and farmers markets.
Find out what fruits and vegetables are in season because they usually cost less. If

you can't get fresh fruits and vegetables, buy frozen or canned.

Choose healthy snacks such as carrot or celery sticks or cherry tomatoes, low-fat yogurt, pretzels, string cheese, peanut butter on

whole-grain crackers, humus and whole-grain crackers or raw vegetables, homemade popcorn, or

homemade trail mix.

Find recipes online or borrow a cookbook from your local library.
Remember to include foods from the 5 food groups: fruits, vegetables, grains, protein, and dairy.
Turn leftover food into a new meal. Shred leftover roasted chicken and add it to a salad. Add leftover rice and vegetables (chop them into small pieces) to a can of chicken broth.
Go meatless a few times a week. Try vegetarian chili or vegetable lasagna. Make a taco salad with beans, green leaf

lettuce, salsa, and cheese.

Make a shopping list. Write down what you need to buy from the grocery store
Shop
Do not shop when you are hungry.

Eat before you shop or bring a light snack.
Buy only what is on your grocery list.
Try store brands if they cost less.
Compare unit prices listed on shelves for the best value. If you have a large family to feed or extra freezer space, buy the larger size or family packs if the unit cost is less.
Check use by or expiration dates. Stores usually stock shelves with the newest items behind the older ones. Reach in the back for the freshest items, especially in the produce, dairy, and meat aisles.
Ask for a rain check. If a sale item has run out, ask the store for a rain check. You can use the rain check to pay the sale price after the item is restocked.
Use coupons but only if you need or plan

on using an item.

Sign up for your grocery store's loyalty program to receive special offers.
Get to know your grocery store layout. You can save time and money if you buy only what is on your list. Skip the candy, cookie, or chip aisle
Food Groups: Budget­ Friendly Options
Fruits and vegetables.
Find fruits and vegetables in the produce section, frozen foods, and canned and pantry food aisles.

Buy produce that is in season. It usually costs less and is at its peak flavor. Buy only what you can use so you don't end up having to throw out spoiled food.
Try canned products. Choose fruit canned in 100% fruit juice and vegetables with

"low-sodium" or "no salt added" on the

label. These products are just as nutritious as fresh, and often cost less.

If you have freezer space, buy frozen vegetables without added sauces or butter. They are as good for you as fresh and may

cost less.

Canned and frozen fruits and vegetables last much longer than fresh. They can

be a

quick way to add fruits and vegetables to your meal
Grains
Find grains and grain products throughout the store, including the bread, cereal, snack, and pasta and rice aisles.

Make half your grains whole grains. Whole grains include whole wheat, brown rice, bulgur, buckwheat, oatmeal, whole­ grain cornmeal, whole oats, and whole rye.
Check ingredient lists and pick the items that have a whole grain listed first.
Pop your own popcorn.
Choose hot cereals such as plain oatmeal or whole-grain dry cereal.
Protein
Find protein foods throughout the store, including the fresh meat case, frozen foods section, dairy case, and canned and pantry food aisles.

Low-cost choices include beans and peas,

s

uch as kidney beans, split peas, and lentils. These are good sources of protein. Use them

in side

or main dishes.

Buy family-sized or value pack meat and freeze what you don't use. Choose lean meats such as chicken or turkey. When choosing ground beef, make sure it's lean (92% lean, 8% fat) ground beef.
Try buying canned tuna, salmon, or

sardines-they store well and are a low­ cost seafood option.

Eggs are a low-cost option. They are quick and easy to prepare. Eat them alone hardboiled or scrambled or add them to other dishes such as fried rice, egg drop soup, or a breakfast burrito.
Dairy
Find dairy foods in the refrigerated and pantry aisles.

Choose low-fat or fat-free milk. They

provide just as much calcium, but fewer calories, than whole and 2% milk.

Buy the larger size of

low-fat plain yogurt. Spoon into smaller containers and add your choice of fruit.

Choose cheese that is "reduced fat" or "low-fat:'
Always check the sell-by date to make sure you're buying the freshest dairy products.
Other
Drink water instead of sodas or other sugary drinks. Tap water is low-cost and

has no calories. Use a reusable water bottle.

Check out at the lane without the candy or snacks, especially if you have kids with you.
For more information, go to the Healthy Eating on a Budget section on MyPlate. gov.
Resources
USDA Nutrition Assistance Programs
Special Supplemental Nutriton Program for Women, Infants, and Children (WIC) The Women, Infants and Children (WIC) program was established as a permanent program in 1974 to safeguard the health of low-income women, infants, and children up to age 5 who are at nutritional risk. The WIC program provides nutritious foods to supplement diets, nutrition education (including breastfeeding promotion and support), and referrals to health and other social services
Supplemental Nutrition Assistance Program (SNAP)
The Supplemental Nutrition Assistance Program (SNAP) The offers nutrition assistance to millions of eligible, low-income individuals and families and provides economic benefits to communities.
The Emergency Food Assistance Program (TEFAP)
The Emergency Food Assistance Program (TEFAP) is a federal program that helps supplement the diets of low-income Americans, including elderly people, by providing them with emergency food and nutrition assistance at no cost.
Other Food Programs
Feeding America
Feeding America is a nationwide network of 200 food banks and 60,000 food pantries and meal programs that provides food and services to people each year.
National Farmers Market Directory Maintained by the USDA Agricultural Marketing Service, the National Farmers Market Directory is designed to provide customers with convenient access to information about farmers market listings to include market locations, directions, operating times, product offerings, accepted forms of payment, and more
Share Our Strength
Share Our Strength's No Kid Hungry campaign connects children in need with nutritious food and teaches their families how to cook healthy, affordable meals.